Frequently Asked Questions (FAQ)
Below are the answers to some of the frequently asked questions from our customers. If you can't find the answer to your questions here, give Graham a no obligation call on 0408 195 197.
Your storage requirements depends upon the amount of items you wish to store, how they can be arranged within the storage unit and how much space you need to leave so that you can actually access your items whilst in storage. For example, you may want to leave a corridor along one edge of the storage to allow access to the items stored at the back.
Large heavy items you can stack other goods on are generally stored at the back of the space, Work forward and upwards with lighter, fragile items. Store goods you'll need to access at the front of the space. Using professional storage cartons and accessories gives maximum protection and makes storing and unpacking easier.
Click here to access the SSAA Storage Estimator.
These are estimates and intended only to give your an appreciation of approximately how much different spaces hold.
2 x 3 metre space holds 2 to 3 rooms of belongings.
4 x 3 metre space holds 2 bedroom flat or 3 bedroom house *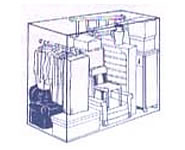 6 x 3 metre space holds the contents of a 3 to 4 bedroom house.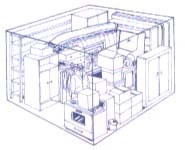 12 x 4 metre space suitable for large storage requirements, business stock, large archive storage or tradesman's equipment, etc.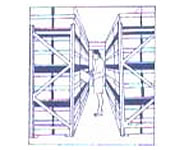 WE ALSO OFFER SHIPPING CONTAINER STORAGE!
* Note: shipping containers are same size as 4 x 3 metre
Whilst self storage is suitable for nearly everything there are some goods that were never meant for self storage – these include all goods that are HAZARDOUS, DANGEROUS, ILLEGAL, STOLEN, PERISHABLE, ENVIRONMENTALLY HARMFUL OR EXPLOSIVE GOODS.
You may not store any goods that are illegal, stolen, inflammable, explosive, environmentally harmful, hazardous perishable or that are a risk to the property of person. e.g. Chlorine, acid, paint, petrol.
Please consult the storage center manager if you have any doubts. It is for your protection and safety as well as others that these goods are not stored in your self storage space.
Self Storage is cost effective
Self Storage is convenient
Self Storage is flexible, allowing you to increase or decrease the amount of space to suit your specific requirements.
Access is convenient and easy.
No appointment needed for access.
Only you control the key to your space.